The work of our group features in several chapters in a new
book describing the new opportunities and challenges for measuring the biomass of forests from space
. The book, "Forest properties and carbon cycle studies from Earth Observations", edited by Klaus Scipal, Anny Cazenave, Teodolina Lopez (ISSN: 0169-3298 (Print) 1573-0956 (Online)) is a Special Issue of Surveys in Geophysics (vol 40, issue 4) and is the outcome of a Workshop on "Space-Based Measurement of Forest Properties for Carbon Cycle Research" held at the International Space Science Institute (ISSI) in Bern, Switzerland, from 6 to 9 November 2017.
The ISSI workshop pulled together experts from various fields and space agencies to discuss key science questions, community needs and new technologies for estimating forest biomass from space. The book summarises the state-of-the-art in space-based observations of biomass including new space-based radar and lidar (laser) instruments being launched now and over the coming few years. In addition, there is an exploration of the various challenges to making best use of these new observations, both scientifically and in terms of policy aimed at reducing emissions due to deforestation and degradation.
I led
a chapter on terrestrial laser scanning
as a key tool for improved calibration and validation (cal/val) of satellite observations of biomass.
Figure from Disney et al. (2019): TLS of 3 contrasting forest types, with each individual tree coloured separately. Top to bottom: Wytham Woods, UK; Caxiuanã, Brazil; Lopé, Gabon.
I also contributed to a chapter by
Laura Duncanson on new cal/val protocols for biomass
, and to a chapter by
Jerome Chave on the importance of more and better ground data
to underpin these space missions.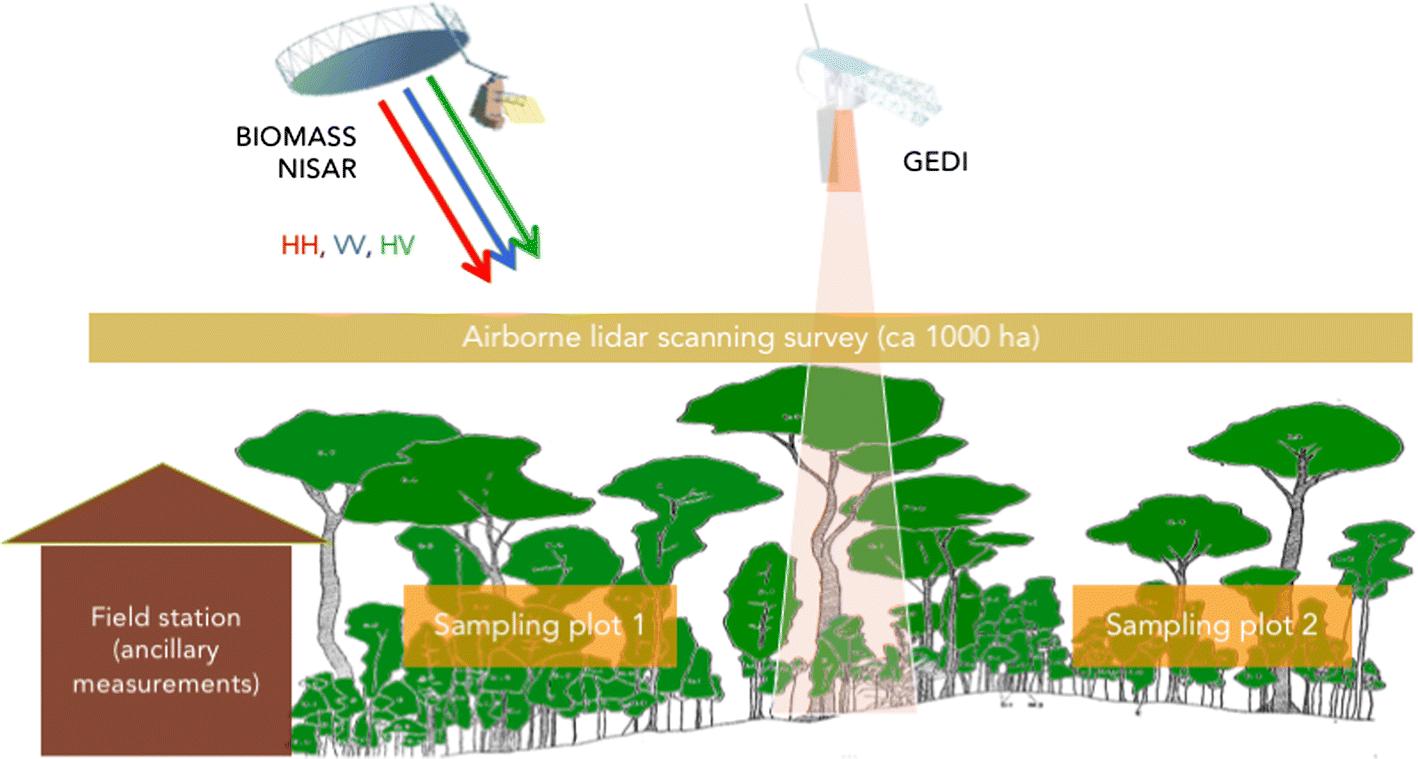 Figure from Chave et al. (2019) illustrating the Super Site concept for ground-based data collection for cal/val of new EO missions providing biomass estimates.
The book is aimed at a general audience of those interested in carbon cycle science, but will be of particular interest to people at the interface of science and policy. The success of initiatives such as the UN REDD+ program to reduce deforestation and degradation will rely on the observations and methods described in the book.