We've been involved in some exciting work measuring what is likely to be
the tallest tree ever measured in the tropics
, in the
rainforests of Sabah, Malaysian Borneo.
The tree,
nicknamed "Menara" or Malay for "tower",
may also be the
tallest angiosperm (flowering plant) in the world, a title currently held by
"Centurion", a
Eucalyptus regnans
in Tasmania, Australia, measured at 99.67 m in 2016.
Menara is a
Shorea faguetiana
(common name Yellow Meranti), of the Dipterocarpaceae family that dominates the humid lowland rainforests of SE Asia, and is 100.8 m from top to ground. It
was originally identified in airborne lidar by a team from Nottingham University
and partners including the South East Asia Rainforest Research Partnership) in 2014.
The tree was
then located on the ground by a Malaysian team and climbed and measured by Unding Jami. Phil then helped train local researchers to operate our laser scanner, in conjunction with a team from Oxford University led by Allie Shenkin.
Allie also produced some amazing visualisations of the tree using the TLS and drone data.
More pictures soon when the paper on this comes out.
We've been busy at the start of spring preparing for new campaigns in Peru, Gabon, the UK and in Germany. This means piecing together the jigsaw of travel plans and logistics, which Andy and Phil are leading. The German work will be in support of an ESA campaign in Kermeter, Germany later in the year, where airborne P-band radar and lidar data are being collected as part the lead up to the BIOMASS mission in 2021.
Matheus has defended his PhD, and passed with minor corrections - of course! Examined by Prof. Mark Danson from Salford, and Prof. Peter Muller from MSSL here at UCL, they were both impressed by his work. Matheus has already published 5 papers before submitting his PhD, including the
most recent one in MEE
summarising his leaf-wood separation work. This is a really excellent paper, providing a significant advance in what we're able to do with TLS data and opening up lots of new areas of exploring tree structure and function.
We've had a few other new papers out since the last post, perhaps most notably one of a collection by various authors on forest biomass, in an edited volume that is coming out in Surveys in Geophysics: Forest Biomass and Structure from Space. This book arises out of the ISSI-organised meeting in Bern in late 2017 and will be an excellent resource, as it will contain a really useful summary of the state-of-the-art in the field. Our first contribution is the chapter "
Innovations in ground and airborne technologies as reference and for training and validation: Terrestrial Laser Scanning (TLS)
".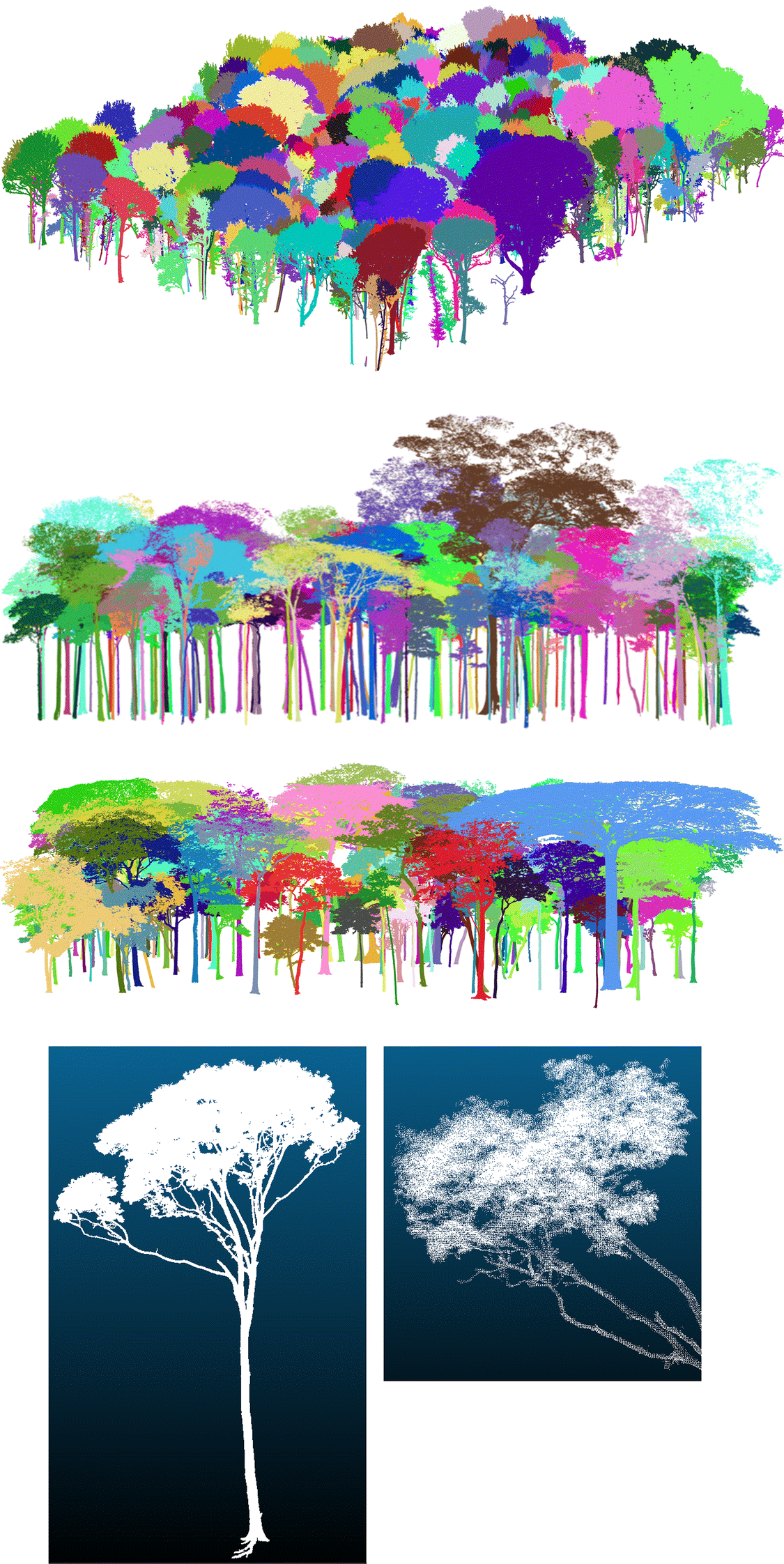 Figure 1 from Disney et al. (2019) showing various examples of TLS point clouds.
Meanwhile I've been out and about doing various talks, including an invitation to speak as part of the lunch-time lecture series to staff at Kew Gardens (including a live feed to the Kew Millenium Seedbank at Wakehurst Place, Sussex). This was a real honour and slightly nerve-wracking as talking about trees to the Kew experts seems a little like teaching your grandmother to suck eggs as the expression goes. I also recently appeared via video link to speak as part of the Climate Conversations lecture series at Lawrence Berkeley National Laboratory, SF - another fun and interesting experience. Last but by no means least I was invited to my daughter's school in Hackney to talk about their current topics, trees and the Amazon - it's always fun to try out new material on a tough crowd - if it's not snappy they lose interest pretty quickly.
News from the GEDI mission - things are looking very good so far and the
first release of data is pretty impressive
. Glad to see they're continuing to rinse the Star Wars link for all it's worth :-) Can't wait to start seeing some of these data over our sites - this is going to be fascinating.
Lastly, Phil went back to scan the Hardy Ash in Old Pancras Church yard following some remedial tree pruning work. See the details
here
, but also Phil's Sketchfab model below.